Our Riga Meadow Story
Riga Meadow Equestrian Center is a congenial and happy community of horse enthusiasts ranging in age from 5 to 85 who love all types of horses and ponies and embrace a range of disciplines. Riga Meadow was started in 2004 when Linda Bushnell, a long time horse professional, joined forces with Jackie Merwin, a horse enthusiast and business woman, to create a harmonious, low key barn accessible to everyone. Riga Meadow relocated from its long time home in Salisbury, CT to its present location at Coole Park Farm in Millbrook in 2019 with the enthusiastic support of many of its long time riders, boarders and fans.
Riga Meadow offers boarding and lessons and supports its riders in their pursuits which include low level competition in eventing, jumping and dressage, as well as trail rides and a drill team. Riga Meadow sponsors a number of recognized and schooling shows as well as clinics each year. Riga Meadow also hosts the Lakeville Pony Club, a local chapter of the United States Pony Clubs, which organizes activities and events for its young members, including horsemanship education, certifications, riding and competitions.
Riga Meadow is located in the heart of horse country. In addition to its large indoor ring and two horse barns, it offers an outdoor double wide jump ring, dressage arena, and across the street on land protected by a conservation easement, a cross country course and two additional rings. Miles of trails with gorgeous views are accessible from the barn door.
The Riga Meadow community is supportive, open, friendly and welcoming to all.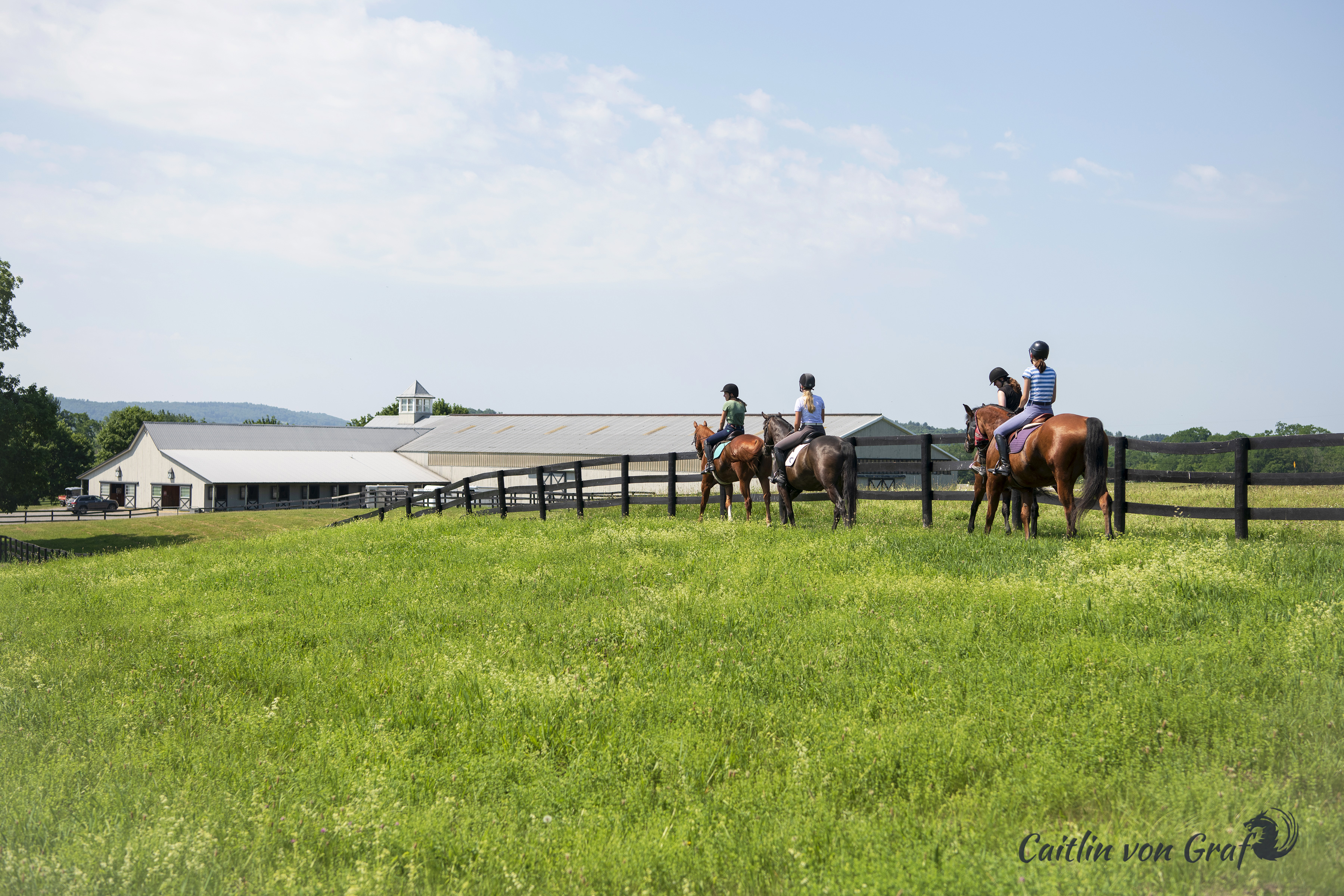 Our Team
Linda Bushnell
Managing Partner, Trainer and Instructor.
Linda is Riga Meadow's primary trainer and instructor. Linda has been an owner and instructor of an equestrian facility for more than 40 years. As a junior rider, Linda competed in the Hunter and Jumper "A" circuit and evented through training level. Among her accomplishments, she has students who have risen to Grand Prix Jumper and high level eventing, as well as young riders who have achieved the highest certifications offered by the United States Pony Clubs. Linda is a patient and highly effective teacher for both children and adults, who helps her riders achieve ambitious goals as well as emphasizing safe riding and quality horse care.
In addition to teaching, Linda is committed to quality horse care and making Riga a fun, happy place to be for the horse and rider. She supervises and coordinates the care of horses and is responsible for overall barn management. She also exercises and trains horses on behalf of their owners. Linda is always accompanied by her German shepherd, Brea.
Dave Hubert
Farm and Facilities Manager
Dave is Riga's Farm and Facilities Manager, responsible for maintaining the beautiful grounds. Dave joined Riga in 2006 and is an essential pillar in Riga's success. Dave lives on the property.
Dean Davidson
Facilities Management, Course Design and Construction
Dean Davidson manages the facilities at Riga, maintaining the barns, paddocks and equipment, as well as building and designing of cross country jumps. Dean's primary business enterprise is Dean Davidson Construction in Salisbury, CT.
Jackie Merwin
Partner
Jackie is the business partner, one of the USEA event coordinators, party and event planner and flower arranger. She too is committed to supporting Riga's fabulous atmosphere. Jackie's daughter keeps her horse Bear at Riga.